CHILLERS/COOLING TOWER NOISE CONTROL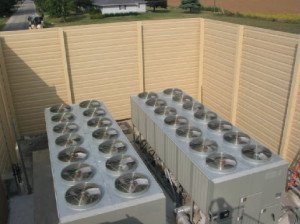 Our Sound Barrier Walls are an engineered, modular panel system designed for high reduction of outdoor noise. The barrier wall is typically used outdoors to control industrial/mechanical noise, HVAC noise, transportation noise and other disturbing noises produced by chillers, air handling equipment, fans, transformers, compressors etc.
Our engineered sound barrier walls are specifically designed and constructed with environmentally durable composite construction that absorbs sound energy and blocks offensive noise. Active Acoustic Engineers has the proven expertise to provide practical, cost-effective and durable solutions.
We can provide noise abatement solutions that are both standard and custom engineered for control of noise in any environment.  Active Acoustic Engineers can offer assistance in calculating the height and design of your sound wall project.
Applications for Sound Barrier Walls
Sound Barrier Walls for HVAC

Outdoor air cooled screw chiller noise control

Cooling Tower

Transformer noise control

Dust collector, air blower and  compressor

Industrial and commercial mechanical equipment

Any outdoor noise source
Sound Barrier Walls 
The National Institutes of Health describes noise-induced hearing loss as the result of one-time exposure to a damaging loud noise, or as the result of ongoing exposure to a loud environment. In most cases, on-site workers have ear protection, but those around them do not. Noise pollution can affect downtown offices, commercial spaces undergoing construction, industrial facilities and it is of particular concern in residential areas.
Sound Barrier Wall for  Sound Blocking
Sound barrier walls can be treated with a coating system to match surrounding areas for a more aesthetically pleasing solution. Wall systems will reduce the unwanted noise to acceptable levels and can be used to improve an unpleasant view. Utilities with outdoor electrical sub-stations with transformers, generators or pumps find outdoor rated systems work extremely well for both noise reduction and residential compatibility. Most neighborhoods have strict noise compliance codes. Barrier panels work especially well to provide code compliance for both hearing protection and comfort levels. You can find barrier wall applications in use at shopping malls, schools, outdoor recreational facilities and parks.
Looking beyond ground-level noise sources, reflective or absorptive barrier wall systems are frequently used to quiet rooftop equipment. Chillers, condensers, cooling towers, etc. are all equipment that may be causing unwanted noise levels from nearby rooftops. Rooftop equipment can be less noticeable and achieve noise reduction of acceptable levels with the correct application of sound barrier walls.
Active Acoustic Engineers offers Acoustic Consultant Services if you require on-site, property-line sound measurements and any other acoustic engineering services. Our acoustical consultants will utilize their expertise in acoustics, noise, and vibrations to recommend effective solutions to your noise control issues. Whether working on existing problem noise sources or ensuring quiet and successful new designs our experts are available for consultation.
Call us to arrange for individual on-site consultation and recommendation.