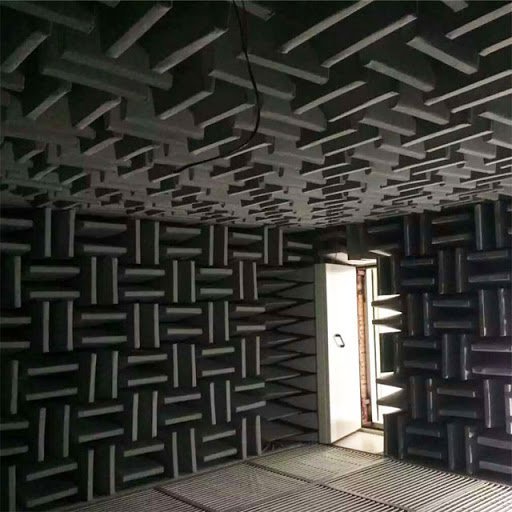 Active Acoustics provided to Anechoic Chambers to provide design to the NVH Test Chamber in accordance with ISO 3744, ISO 3745 specifications. At Active Acoustics, we provide great services from our expert team from designing, fabricating and installing an a semi / hemi anechoic chamber.
The NVH Test Chamber is a room designed in such a way that it has no resonance and therefore no resonance. Any sound emitted in the anechoic chamber is completely absorbed by the panel. Anechoic chamber is a special space with walls, ceilings and floors that absorb any kind of sound and electromagnetic waves. Not allowing the entry of noise from any external source makes the chamber completely untouched. Recycling time is very short for different audio frequencies.

Anechoic test chambers, hemi anechoic chamber, and quiet rooms and also noise test booth. They are manufactured with modular, metal acoustical panels. This modular approach allows us the ability to construct acoustical rooms and chambers of various sizes and for a multitude of applications. Each component is pre-engineered and design for easy site installation on site. Our NVH Test Chamber system/semi anechoic chamber can include a selection of openings that include; acoustical doors, windows, power and data cable, ventilation systems, etc
We can provide totally integrated NVH Test Chamber systems and designs that include stringent requirements for such areas as; isolated floors, light and power connections, computer connections, ventilation, temperature and humidity control, instrumentation sleeves, control supports, working floors, and single and double sound doors.  Active Acoustic Engineers can also supply semi anechoic chamber, if necessary, a floating floor system to match the acoustical isolation properties of the chamber walls.  Host site conditions and the desired level of acoustical performance determine the floor design parameters.  Most systems will also provide interior and exterior finish options to suit your worksite.
Our experienced Acoustic Consultants can provide sound and noise level data specific to your site that will include recommendations for a Noise Test Chamber that will provide a viable, cost-effective solution to your noise problem .Get the best solutions from leading Anechoic chamber manufacturer in India.
Our Service:
Surveying and Engineering

Consultancy and project management

Design and Development

Turnkey Supply Solutions

Site Establishment

Chamber formation and testing

Instrument suggestions: DB meter, FFT analyzer, microphone etc.

After Sales Service: AMC.

 
The types of Anechoic Chamber :
Fully Anechoic Chamber

Semi Anechoic Chamber

Hemi Anechoic Chambers

Noise Testing Booth

NVH Test Chambers

Bank Line Noise Test Chamber

Quite room

Engine Test Cell Acoustic

Anechoic Chamber

Mini Anechoic Chamber

Portable Anechoic Chamber

Reincarnation Room
Technical Features
Comprehensive service with turnkey solutions

Feasibility check with proper construction measurement and commissioning.

Guaranteed superior acoustic performance for each and every smallpox.

Good expertise in acoustics with knowledge of civil, architectural, electrical and instrumentation.

Proper use of anicoid wedges.

Wedges – Metallic or PU form wedges

Performance Standard Code – ISO 3744 and 3745

Background noise level – up to 15 dB (A).

Free feild condition / measuring range cut-off frequency: up to 80 Hz.

ISO Certified Quality Control with ISO 9001-2015.

Good quality material with reliable technology.
1. Quiet Rooms
It provide a controlled acoustic environment to conduct noise evaluations on a product or specimen without the interference of outside noises and vibrations. Typically used on factory plant floors or in-plant labs, Active Acoustic Engineers Quiet Rooms are specifically engineered for high sound-transmission-loss and sound-absorption ratings which provide excellent noise reduction characteristics.
2. Hemi-Anechoic
Hemi anechoic chamber/ semi anechoic chambers provide an essentially free-field environment over a reflective plane (the floor) for the measurement of hemispherically radiated sound waves emanating from a sound source. Both types of chambers are well suited for rating sound output, and for providing directivity information.
3. NVH Test Chamber / Anechoic Chamber
provide an essentially a free-field environment for the measurement of spherically radiated sound waves emanating from a sound source. NVH Test Chamber are echo-free enclosures with a sound energy absorption level of 99% to 100%, or a reflected sound pressure level of 10% or less. The frequency at which the energy absorption drops below 99%, or the pressure reflection exceeds 10%, is known as the low-frequency cut-off. Sound absorption is obtained by lining the walls, ceilings, and floor with wedges or other sound absorbing elements, depending on performance level required and cut-off desired. we Are the leading Anechoic Chamber Manufacturer in India.
4. Performance
The NVH test chamber designed to achieve following conditions, Test Standards ISO-3744/3745.
Background Noise Level
Chamber has lower value of background noise level upto  15 dB(A) 
Free Field condition
The chamber absorb over 99.99% of incident acoustic energy above up-to 80 Hz 
Measuring Range
Cut off frequency: upto 80 Hz
NOTE: Background noise level and free field condition will be as per  design and test requirement criteria.